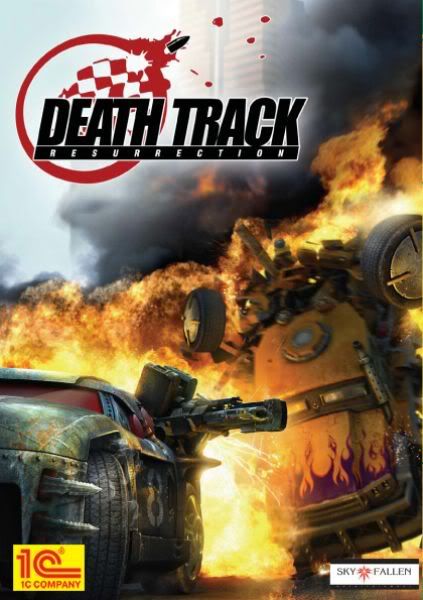 Death Track:
Resurrection is a successor of the legendary Deathtrack, one of the founders of the combat racing genre.
Death Track:
Resurrection is a racing / action title that plunges players into the not too distant future, into a world of chaos. Traditional sports are replaced by far more aggressive, violent and thrilling type of entertainment the public screams for more. The attention of the Earth population is drawn to the main event of the year - "The Survival Race". This is a World Tournament that takes place in the largest cities across the globe. Powerful vehicles and spectacular road battles are performed by world-renown drivers. This tournament, its fame and of course money attracts more and more new pilots every day.
The main character of the game is a rookie driver who enters the tournament for the first time. Soon enough it becomes clear that the battle on the track is not always fair. To achieve top results requires a belief that the end justifies the means. On his way to the top he will have to win many races and battles, eliminate numerous enemies and become a witness to great treachery.
Features:
• 10 cities of the future: Bangkok, Vatican City, London, Moscow, New York, Paris, Prague, San Diego, Istanbul and Tokyo
• Modern graphics and stunning visuals
• 5 racing modes with over 100 km of tracks
• 10 powerful cars with different upgrades and skins
• Deadly weapons, mines, guided robots and different kinds of bonuses
• Breathtaking stunts
• In-game videos move the thrilling detective story
• Modern graphic technologies - Bump, Specular, Parallax, Dynamic shadow & lights, Refraction and Bloom buffers, Sub Surface Scatering, Multylayered Materials.
Minimum:
* Operating System: Windows XP SP3, Windows Vista SP1
* CPU Processor: Intel Pentium 4 3.0 GHz or AMD Athlon 3500+
* Memory: XP – 1 GB RAM, Vista – 2 GB RAM
* Hard Disk Space: 6.5 GB + 1 GB Swap File
* Sound Card: DirectX 9.0c compatible sound card
* Video Card: 3D Hardware Accelerator Card Required – 100% DirectX 9.0c compatible 256 MB Video Memory
* Video Card (ATI): Radeon X800
* Video Card (Nvidia): Geforce 6800
* Media Required: 6X DVD-ROM drive
* Windows XP/Vista compatible mouse and keyboard with latest drivers
Recommended:
* Intel Core 2 Duo 2.0 GHz or AMD Athlon Dual Core 4400+
* 256 MB 3D Hardware Accelerator Card with Shader 3.0 support
* Video Card (ATI): Radeon HD 3850
* Video Card (Nvidia): Geforce 8800 GT
* Memory: 2 GB RAM
Supported Graphics Cards:
* ATI RADEON X800, X1300, X1600, X1900, HD 2400, 2600, 2900, 3850, 3870
* NVIDIA GEFORCE 7600, 7800, 8500, 8600, 8800, 9600, 260, GO 7900, GO 7950, GO 8400.
http://www.mediafire.com/?sharekey=8aa61c04cc6633018c9e7c56ba37815fcd95b04b7dd682c3

Pass: softvnn.com